Prophet Equity's Essential Service Business of the Week- Derby Fabricating Solutions
Founded in 1977 and headquartered in Louisville, KY, Derby Fabricating Solutions is a leading manufacturer of die cut nonmetallic materials for automotive Noise Vibration & Harshness (NVH) and Buzz Squeak & Rattle (BSR) reduction applications. In the midst of the COVID-19 pandemic, the team has expanded its manufacturing offerings to include mission-critical, face shields designed for frontline essential workers. Operating facilities in KY, OH, TN, and MI, the Derby team is available to provide face shield manufacturing throughout the U.S. For further inquiries regarding Derby's face shield capabilities please visit: www.derbyfab.com.
Prophet's CEO & Managing Partner, Ross Gatlin commented, "Derby Fabricating Solutions nimble redirection of their proven manufacturing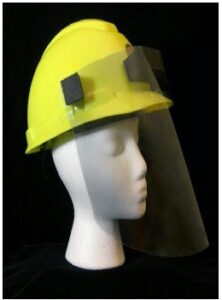 capabilities to service urgent medical needs and battle the pandemic is nothing short of amazing.  Not only did they pivot aggressively to support the medical industry and essential services everywhere, but they utilized their world class engineering talent  to also adapt conventional face shields to hard hats in order to help keep those in industrial businesses safe while they are hard at work."  Jason Kellams, President of Derby, also stated  "Our team of dedicated and experienced professionals across the value chain of engineering, product development, quality control, manufacturing, sales, distribution and service continue to serve not only our long term automotive customers, but also essential service providers everywhere during these turbulent times."
ABOUT PROPHET EQUITY
Prophet Equity is a private equity firm that uses proven, data-driven analytical techniques coupled with over 100 years of investment and management experience to invest in, unlock and realize future value today. Partnering with owners and management teams, Prophet Equity's team utilizes a toolkit that is Fortune 500 tested and private equity proven to diagnose and drive dramatic value creation. Portfolio company management teams are highly motivated with clear, uncapped incentives based on realized business performance.
Over the last 20 plus years, Prophet Equity's Principals have invested in and managed over $2.5 billion of value creation across entities with over $6 billion in revenue. Prophet Equity's equity investments focus on strategically strong, lower and middle market businesses with significant value creation potential. These are typically found in partnerships, corporate carve-outs, divestitures and non-strategic business units of larger companies. For more information, please visit www.prophetequity.com or call us at +1.817.898.1500.
Back to Press Room